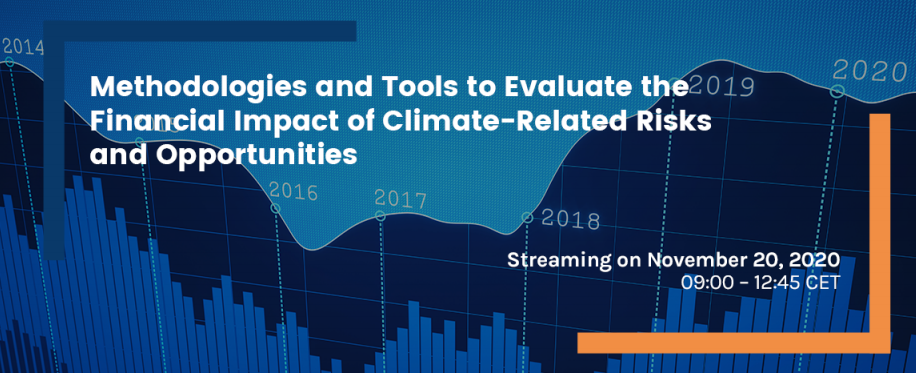 20 Novembre 2020
Chapter Zero

e

Eventi Associativi
Methodologies and Tools to Evaluate the Financial Impact of Climate-Related Risks and Opportunities – FEEM
/
/
Methodologies and Tools to Evaluate the Financial Impact of Climate-Related Risks and Opportunities – FEEM
20 Novembre 2020 ore 09:00 - Durata 240'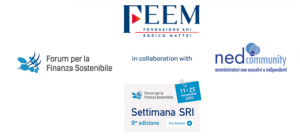 Despite being a complex challenge, the development of an effective methodology to evaluate the impact of climate on the company s activity (and vice versa) is increasingly becoming a priority for firms and investors. As a consequence, the demand for disclosure of climate-related risks and opportunities is rapidly growing. Firms are responding by applying guidelines such as those of the Task Force on Climate-Related Financial Disclosures (TCFD, 2017) and the updated version of the Non-Binding Guidelines on Non-Financial Reporting of the European Commission (NBG, 2019). Besides, they are progressively implementing key initiatives from the European Action Plan on Financing Sustainable Growth such as the EU Taxonomy.
At the same time, think tanks, research centres, and data providers have proposed several tools and approaches to carry out such evaluations; hence, considerably widening the available instruments.
In this context, on November 20, 2020 Fondazione Eni Enrico Mattei, in collaboration with the Italian Sustainable Investment Forum and Nedcommunity, organises, for the third year, an online workshop where high-level international experts will present some of the most interesting methodologies and approaches in this field. The presentations will be followed by a virtual round table and a Q&A session to discuss the impact that these assessment methodologies may have on the financial sector and on the companies' business activities.
This workshop is part of the FEEM/DeRisk-CO project, which aims at stimulating a debate on the importance of assessing and disclosing climate-related risks and opportunities and their impact on financial performance, with a particular focus on Italian businesses.
Agenda
9.00 – 9.10   Greetings – Stefano Pareglio, Scientific Coordinator – FEEM / Firms and Cities Transition towards Sustainability – Università Cattolica del Sacro Cuore
9.10 – 9.20 Groundbreaking – Arianna Lovera, Senior Programme Officer – Italian Sustainable Investment Forum (ItaSif)
9.20 – 9.40 -Carbon Disclosure Project's Climate-related Risks and Opportunities Framework – Overview and insights
Nico Fettes, Head of Climetrics – CDP (Global)
9.40 – 11.00  – Measuring the Financial Impacts of Climate-related Risks – Chaired by:Speakers:
Riccardo Christopher Spani, Researcher – FEEM
Constanze Bayer, Analyst – 2 0 Investing Initiative (Global)
PACTA — Aligning to Paris Agreement
Thomas Nielsen, Engagement Manager Finance Practice Lead – Vivid Economics (UK)
Measuring and Acting upon Investment Climate Risks
Torolf Hamm, Global Head, Catastrophe & Climate Risk Management – Willis Towers Watson (Global)
Climate Change – How to prepare an organization for the challenges that lie ahead?
Jean-Yves Wilmotte, Manager I Finance Practice Leader – Carbone4 (FRA)
Assessing Climate-related Risks – Carbone4's Approach
11.00 – 12.00 Virtual Round Table Moderated by:
Sabrina Bruno, Full Professor of Private Comparative Law – Unical and LUISS G.
Carli – Nedcommunity and Chair Steering Committee of Italian Climate Governance Chapter
Participants:
Hasmeen Deol, Vice President on the Business Development team – Capital Dynamics SGR
Michele-Filiberto Marchese, Head of Institutional Client Coverage Italy – UBS Asset Management SGR
Angelo Meda, Head of Equities Investments and Portfolio Manager – Banor SIM
Francesco Sandrini, Head of Multi Asset Balanced and Total Return – Amundi
Marco Stampa, Sustainability Manager – Saipem SpA
12.00 – 12.45   Q&A with DeRisk-CO companies Moderated by:
Riccardo Christopher Spani, Researcher – FEEM
12.45 Conclusions
Riccardo Christopher Spani, Researcher – FEEM
Clicca QUI per la registrazione del webinar.