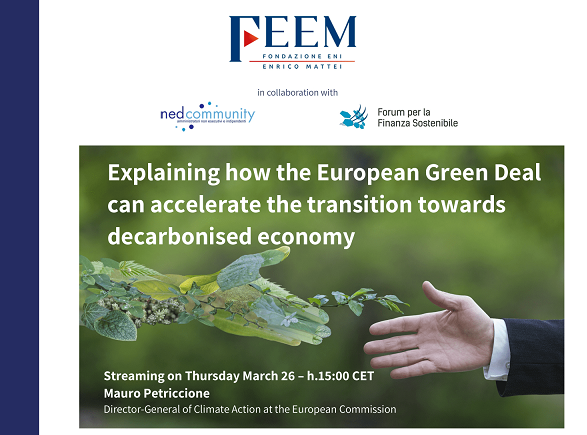 8 Maggio 2020
Chapter Zero
, Eventi Associativi

e

Webinar
WEBINAR – Explaining how the European Green Deal can accelerate the transition towards a decarbonised economy
/
/
/
WEBINAR – Explaining how the European Green Deal can accelerate the transition towards a decarbonised economy
8 Maggio 2020 ore 11:00 - Durata 60'
Il Webinar è un'iniziativa di Chapter Zero Italy – The Nedcommunity Climate Forum
Explaining how the European Green Deal
can accelerate the transition towards
a decarbonised economy
streaming May 8, 2020 – h. 11:00 (CET)
In December 2019, the European Commission launched the European Green Deal, a new strategy oriented at achieving the goals of the Paris Agreement, in which decarbonisation and resource-effciency were set as the main targets to pursue. Acknowledging that climate change represents a severe threat for the society, the strategy identifes a clear opportunity as well to set the European economy on the pathway to sustainable development. The rise in the EU's climate ambition for 2030 and 2050, the Just Transition Mechanism, and the preservation and restoration of ecosystems and biodiversity are just a few elements of this strategy. However, the Commission recognises that these ambitious targets cannot be met without the engagement of the private sector. And, accordingly, among the main aims of the European Green Deal, mobilising the stakeholders and partners is the most signifcant.
The webinar is aimed at providing in-depth commentary on the specifc actions included in the new strategy and on how these actions are going to help Europe meet the goals of the Paris Agreement, while leaving no one behind.
Presenter: Riccardo Christopher Spani holds a Bachelor degree and a Master degree in Economics from University of Rome La Sapienza. He is a Researcher at Fondazione Eni Enrico Mattei.
Speaker: Mauro Petriccione holds a degree in Law from University of Bari and a Master degree from University of London – London School of Economics and Political Science. Currently, he is Director-General of Climate Action at the European Commission
Il webinar sarà tenuto in lingua inglese.
Per maggiori informazioni, consultare l'agenda.
La partecipazione al webinar è gratuita, previa registrazione.
Per registrarsi, compilare il form QUI
Per maggiori informazioni QUI