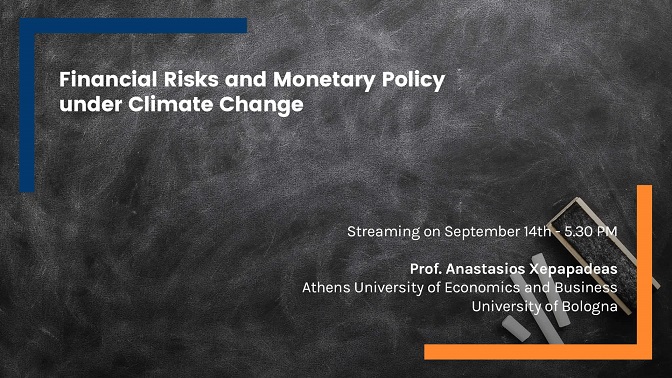 14 Settembre 2020
Webinar | Financial Risks and Monetary Policy under Climate –  September 14th 2020 – h. 17.30
/
/
/
Webinar | Financial Risks and Monetary Policy under Climate –  September 14th 2020 – h. 17.30
14 Settembre 2020 ore 17:30 - Durata 90'
Since the horizon at which climate change impacts the economy has shortened, the very likely impact of climate change on growth and future output paths might require more involvement of monetary policy. Although monetary policy aims at short-term output and employment stabilization, it should consider the impact of climate change on output, as well as the potential impact of climate-change-related fiscal policy measures on inflation.
On September 14th, Fondazione Eni Enrico Mattei, Italian Sustainable Investment Forum (ItaSIF) and Nedcommunity will discuss the impact that climate-related issues can have at a macro level, and the possible actions that monetary policy can implement in order to manage them properly.
With the participation of the DeRisk-CO network, the event will be the occasion to discuss with two professors from the University of Athens, University of Bologna, and University of Roma Tre, two approaches to the issue, deepening the analysis by presenting other possible extensions of the economic models on which such approaches are based.
Anastasios Xepapadeas – Athens University of Economics and Business, University of Bologna
Discussant: Valeria Costantini – Roma Tre University
Register HERE
Download the Agenda HERE
Il giorno prima dell'evento tutti gli iscritti riceveranno il link per collegarsi all'evento.